I keep getting free stuff for passing the CAE exam.

I got a bookmark from Pinehurst Golf Club a few weeks back, and more recently a four issue trial subscription to CEO Job Opportunities Update: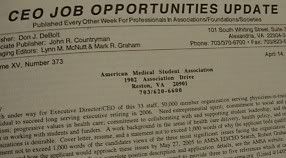 No, I'm not looking for a new job, and thankfully nobody on staff saw the newsletter in my office.
I often find myself in the minority opinion when talking with other membership professionals on the value of free trial memberships. Personally, I think such incentives do have merit. If CEO Job Opportunities Update had sent me a congratulatory letter and a subscription card, I would have quickly jettisoned both, and probably wouldn't have given them a second thought for the rest of my life.

However, in this scenario, a free sample of the CEO Job Opportunities Update seems less like a give-away and more like a "reward" for passing the CAE exam. They've allowed me to discover and explore a product I didn't even know existed. Those on the other side of this debate contend that giving away a trial membership or subscription, even for a few months, "de-values" it. There's a certain truth to that, but I suppose I'd rather have an informed prospect. I would also point out that renewals are very profitable: But you can't renew a member until they've joined and incentives increase response.

Certainly associations should first ensure that they are delivering a good membership value and effectively communicating it. But once you've accomplished that (can you ever truly accomplish that?), there will be reluctant prospects who need to take membership for a test drive before they buy.

In this case, when the trial ends, I admittedly won't subscribe right away. However, unless there's a better product out there that I happen to stumble upon, when the time is right I probably will subscribe to CEO Job Opportunities Update. In addition, consider the word-of-mouth attention they just got from me for this act of goodwill. And all because they introduced themselves to me.

And for those of you who have been eagerly awaiting news about the spoils from my prestigious prize from Richmond.com: Well, it was quite a let-down. Tickets to three sneak previews for cruddy movies, a T-shirt and some other logo gear. Hmph.