So last week I mentioned this professional development opportunity that I have coming up. Well, the professional development thing is a 5-day course called Building the Foundations of Personal Leadership which is being put on by the Banff Centre in Alberta, Canada.

About this time last year I learned that I was one of two winners of the Center for Association Leadership's third annual Banff Scholarship for Emerging Leaders.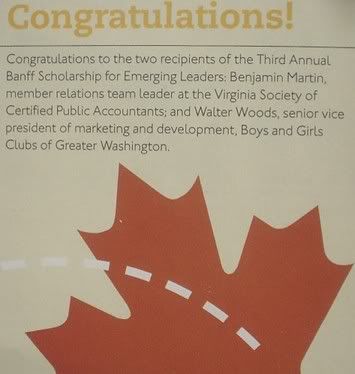 Unfortunately this program seems to have been dropped, perhaps as a result of the ASAE-Center merger, or maybe the Banff Centre decided to stop supporting it. ASAE also offers (offered?) a Banff scholarship, but it is (was) for CEOs. That's what made the Center's program so cool -- it really demonstrated their commitment to younger members.

The application was a killer. Most of the questions were esoteric and required a lot of introspection. For that, I have Chris Bailey at ImaginActive Coaching to thank, winner of the inaugural Banff Scholarship for Emerging Leaders and leader of the team who revised the Banff application back in 2002-2003. I'm looking back at what I wrote for the application -- it's 7 pages long and there are nearly 14,000 characters in the document. I remember spending a lot of time, probably more than 10 hours in total, thinking about my responses and massaging the text. Not only did I have this lengthy application to fill out, but my President & CEO also had to write a letter on my behalf.

I think the difficulty of the application compelled most would-be applicants to self-select out of the competition. In the end, Walter Woods of the Boys & Girls Clubs of Greater Washington and I wound up the winners of the 2004 campaign.

My work schedule required me to put off the trip for months, but I'm now in the final stages of preparing for my trip. In the next couple of days I'll tell you more about the process.