Some of my fellow association bloggers have been writing about RSS, so if everyone else is doing it, why can't I? Want to find out what this picture has to do with RSS? Read on.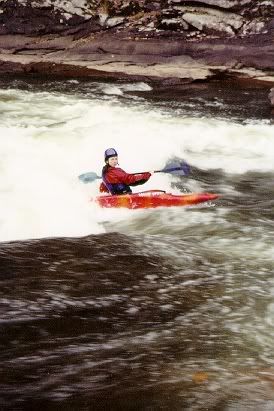 I first got turned on to RSS a little less than a year ago when My.Yahoo.com introduced an aggregator service. I found it a relatively simple way to keep up with all my favorite blogs and podcasts. However, this solution requires one to launch a browser and then link over to the blog.
A real RSS aggregator, on the other hand, automatically checks your feeds and downloads them to your computer. That's more convenient, in my opinion. Recently I broke down and installed an RSS aggregator, called You Subscribe. The handy thing about You Subscribe is that it's a free plug-in for Outlook, so I don't have to run another app to keep up with my feeds. There are better aggregators out there, but I want my feeds in Outlook -- period. Don't consider this a glowing endorsement of You Subscribe. So far, it seems to slow down Outlook.

Infrequently, I'll stumble upon an association using RSS. Here are links to a few...
Ohio Soceity of CPAs
Newspaper Association of America
Arkansas Alumni Association

At this point, most RSS feeds simply allow you to keep up with new content posted to a blog or Web site. WashingtonPost.com recently implemented RSS feeds for much of its content, and I've subscribed to the Redskins feed.

The cutting-edge RSS feeds these days are auto-generated. My favorite RSS app is run by Craigslist.org. Craigslist is perhaps the next big thing to follow eBay. It's basically a totally free classifieds section (that happens to be putting the hurt on traditional newspaper classifieds) and it has quite a large following. Now the cool thing about Craigslist's RSS feature is that it creates custom RSS feeds on the fly based on search criteria.

For example, right now I'm passively shopping for a whitewater kayak. I go to Richmond.craigslist.org and search for kayak, and in addition to the search results, at the bottom of the page -- presto! -- Craigslist has auto-generated an RSS feed that I can add to my aggregator. Now, whenever someone posts an ad containing the word kayak, it instantly shows up in my aggregator. And there are RSS feeds auto-generated to allow you to follow comments to individual blog posts -- not in this blog, though.

Now, imagine if sites like Amazon or eBay got on board with RSS -- and I assume they're working on it. You could create a feed that notifies you when a certain product drops below a certain price. Or a feed that notifies you 30 minutes before an eBay auction ends if the highest bid is below a certain price. Or what if ASAE supported feeds that would notify you when a certain phrase appears in its listserves, or when they add a book in a certain category? There are a ton of possibilities.

The truth is, RSS is not much different than email, and the line between RSS and email will be blurred even further if Outlook integrates RSS into its functionality.