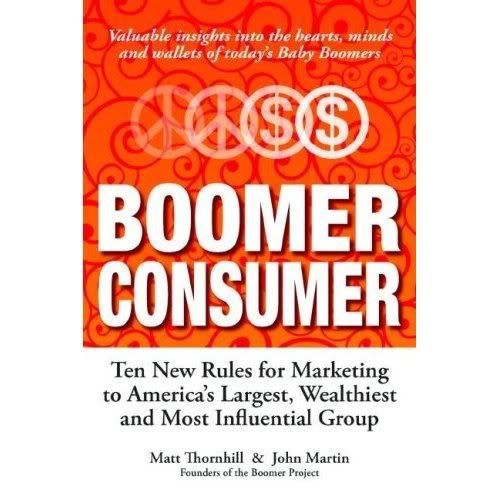 With all the hooplah on generations X and Y swirling about in the association management profession these days, it was refreshing to receive a copy of a book about the baby boomer generation and how to market to them. A friend gave me a copy of Boomer Consumer: Ten Rules for Marketing to America's Largest, Wealthiest and Most Influential Group
, and I read it over the weekend.

The book is an outcome of the Boomer Project, a joint venture between Matt Thornhill, an advertising executive, and John Martin (no relation), the CEO of SIR Research, a Richmond-based market research firm (full disclosure: VSCPA was an SIR client while I was employed there).

For me, this book echoes much of the advice I've heard from marketing consultants for years. There were, however, a few points that I feel merit special attention:

Life stage is a more significant differentiator than generation. That is, generation X will reflect many of the same traits that the baby boomers exhibit now when X gets to the same age.
The baby boomer generation tends to make more buying decisions on emotion, gut feeling or instinct than facts or research because they have a higher earning level than most other generations in the marketplace. This is a reflection of their life stage, not their generation. Marketing messages intended for baby boomers should de-emphasize facts in favor of giving boomers "a reason to believe," in the words of the authors.
Boomers see more issues in shades of gray, rather than black and white. Absolute marketing messages such as "the best" or "the only" should be downplayed in favor of messages that give the prospect the ability to create their own meaning from the words and images conveyed.
For a long time, the marketing sages have encouraged practitioners to emphasize benefits over features. Along the lines of point number three (above) the authors suggest providing a list of features and allow the prospect to construct their own sense of the benefits. Chances are, they are doing this anyway. I have a positive bias for this method, especially in marketing the intangible, such as association memberships.
There is a sharp generational disconnect between the demographics of today's advertising practitioners (primarily generation X) and America's most profitable cohort (baby boomers). As a result, most baby boomers agree that the advertising messages they receive don't resonate with them.
The advertising profession's bias towards the 18-39 age span is deeply flawed. Boomers will be the most prolific consumers for many more years to come.
Marketing to older generations may just earn you business from all generations (i.e. OXO kitchen utensils are widely popular, yet were originally designed for arthritic consumers).
Give serious consideration to omitting photos of boomers from advertising intended for them. Examples from the book include printing photos of children, allowing the reader to create their own interpretation of the child's identity (i.e. son or grandson), and Harley Davidson's advertising which always shows a rider wearing a helmet, so as to obscure the subject's age.

Thankfully, the book does a great job of steering clear of generational stereotyping. Only once did I notice something that just struck me as being a stereotype against generation X.
All in all, this book opened my eyes to a few new learnings, but also reinforced my confidence in some assumptions I've made over the years through observation and experience.
The book is
available from Amazon.com for $16.47
and is 206 pages, excluding the index.
The authors maintain
a pretty good blog
.
Tagged:
Association Management
;
Associations
;
Baby Boomers
;
CAE
;
Certified Association Executive