Recently I requested a copy of the CAE examination item writing manual from ASAE as recommended in Professional Practices, only to discover that ASAE doesn't make it available anymore. Okay, fine, the book is out of date, no big deal.

Then, last night at GWSAENetwork's networking event, I learned from a recent successful CAE candidate that there is a great deal of content on PACs covered in the CAE exam, yet as I wrote earlier, the words "PAC" and "political" don't even appear in the current CAE exam content outline. Those words do, however, appear in the content outline being implemented in 2005. I'm glad I'm learning this now, but it makes me wonder what else is covered in the exam, yet doesn't appear in the content outline. Hmm... That's a scary thought.

Anyway, here's a photo of me and the other award winners from the GWSAENetwork event last night.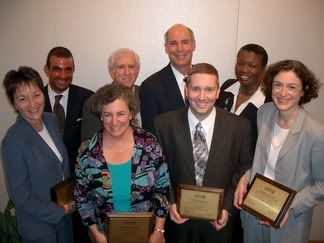 The wet weather made it quite difficult getting from Richmond to DC and back last night, but my wife and I made it.
Anyhow, looks like I'll be returning to the books tonight, probably to brush up on the PAC readings.